CYBER WEEK..50% off design, 35% off print, Free Shipping...logos cards flyers websites posters signs in Norfolk, Virginia For Sale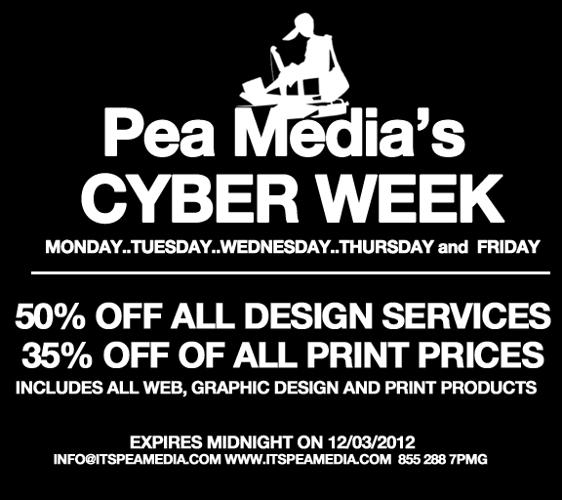 Seller:
Date/Time:26 Jan, 10:15 a.m. EST
Type: Creative, For Sale - Private.

If you can't view the images in this email, please go here.

50% OFF OF ALL DESIGN SERVICES (including web and all design)
35% OFF OF ALL PRINT PRICES
FREE SHIPPING ON ALL ITEMS...**turnaround** times extended to 4-7 business days for free shipped items)

OFFER GOOD THRU MIDNIGHT 12/03/xxxx.

E-commerce | SEO | Web Development | Advertising Campaigns | Company Branding | Social Media Campaigns | Wordpress Design | Magazine Design+Print | Direct Mail | Trade Show Graphics | Store Signage | Bumper Stickers | Catalogs | Brochures | Mobile Websites | Video Editing
CALL US: 855.288.7PMG (xxxx)
EMAIL US: INFO@itspeamedia.com
VISIT US : www.itspeamedia.com
WE DESIGN | WE WEB | WE PRINT
WE ARE PEA.MEDIA... ARE YOU?
CLICK HERE TO FILL OUT LOGO QUESTIONNAIRE | CLICK HERE TO FILL OUT DESIGN QUESTIONNAIRE | CLICK HERE TO FILL OUT WEB DESIGN QUESTIONNAIRE


©xxxx Pea MEDIA Group, LLC All rights reserved.
We respect your right to privacy - view our policy | Unsubscribe

i wont win if i lie to you.
im not going to show you any link or any video just to get your hopes up. im going to be real here, you only need 3...
Price: $600
Time: 11:17 a.m. EST
Date: 09 Nov

Time: 08:28 a.m. EST
Date: 09 Nov

Time: 11:38 p.m. EST
Date: 07 Nov

Time: 04:10 a.m. EST
Date: 07 Nov

Academic assistance
Want excellent grades in your coursework? Not getting time for exam preparation? Coursework seems too complicated?...
Price: $8
Time: 05:09 a.m. EST
Date: 06 Nov

Time: 05:41 p.m. EST
Date: 05 Nov