CYBER WEEK..50% off design, 35% off print, Free Shipping...logos cards flyers websites posters signs in Norfolk, Virginia For Sale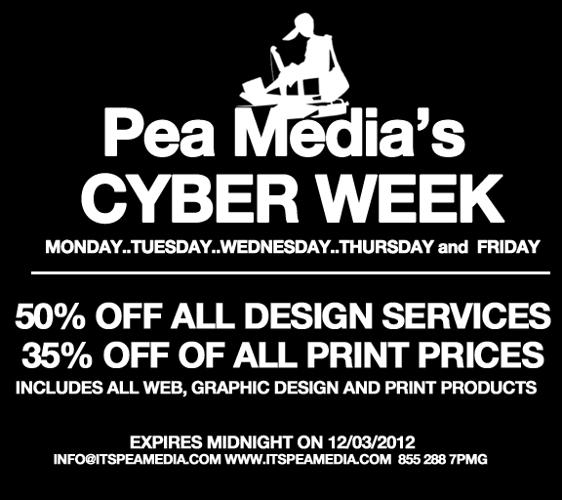 Seller:
Date/Time:26 Jan, 10:15 a.m. EST
Type: Creative, For Sale - Private.

If you can't view the images in this email, please go here.

50% OFF OF ALL DESIGN SERVICES (including web and all design)
35% OFF OF ALL PRINT PRICES
FREE SHIPPING ON ALL ITEMS...**turnaround** times extended to 4-7 business days for free shipped items)

OFFER GOOD THRU MIDNIGHT 12/03/xxxx.

E-commerce | SEO | Web Development | Advertising Campaigns | Company Branding | Social Media Campaigns | Wordpress Design | Magazine Design+Print | Direct Mail | Trade Show Graphics | Store Signage | Bumper Stickers | Catalogs | Brochures | Mobile Websites | Video Editing
CALL US: 855.288.7PMG (xxxx)
EMAIL US: INFO@itspeamedia.com
VISIT US : www.itspeamedia.com
WE DESIGN | WE WEB | WE PRINT
WE ARE PEA.MEDIA... ARE YOU?
CLICK HERE TO FILL OUT LOGO QUESTIONNAIRE | CLICK HERE TO FILL OUT DESIGN QUESTIONNAIRE | CLICK HERE TO FILL OUT WEB DESIGN QUESTIONNAIRE


©xxxx Pea MEDIA Group, LLC All rights reserved.
We respect your right to privacy - view our policy | Unsubscribe

Price: $60
Time: 07:04 a.m. EST
Date: 22 Jul

Time: 09:15 p.m. EST
Date: 21 Jul

Time: 08:16 p.m. EST
Date: 21 Jul

Ghostwriter for you
Don't let those creative ideas go to waste. Whether you're writing a short article or a full length novel, a ghost...
Time: 04:31 p.m. EST
Date: 21 Jul

New Home Staging in Virginia
Buying furniture for a new home can be irking and at times stressful, but Vantrowski & Co. Can help alleviate that...
Time: 10:48 p.m. EST
Date: 20 Jul

Time: 10:40 p.m. EST
Date: 20 Jul